About This Webcomic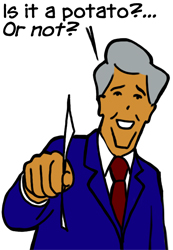 "Ed Contradictory" follows the adventures of the title character, Pinder the pygmy panda bear, Mackenzie the automaton, Edgar the gentleman scientist, Marcus the mercenary, the Magical Booze Fish, and others as they struggle to survive in a crazy world and put together a weekly webcomic.
"Ed Contradictory" is meant to appeal to those who love the absurd and parody/satire that cuts so close, you're almost not sure it's a joke. It should also appeal to fans of shows like "30 Rock," insofar as it's a bit meta, and often deals with the making of the very comic the reader is reading, the same way shows like "30 Rock," "Newsradio," and "WKRP" deal with skewed, character-driven behind the scenes takes on their mediums.
We got reviewed! And the critic said we give "a lot of wry observations and odd situations, and it's hilarious." So there.
The site updates every Monday and Thursday. Comic book collections are put together as soon as I have enough material, usually every 10 months. The comic book collections can be ordered from IndyPlanet.com or purchased at conventions.