Tuesday, December 22nd, 2009
So, with my laptop still being repaired, I wasn't able to do a new sketch this week. I was just going to skip it, but decided, instead, to share this with you: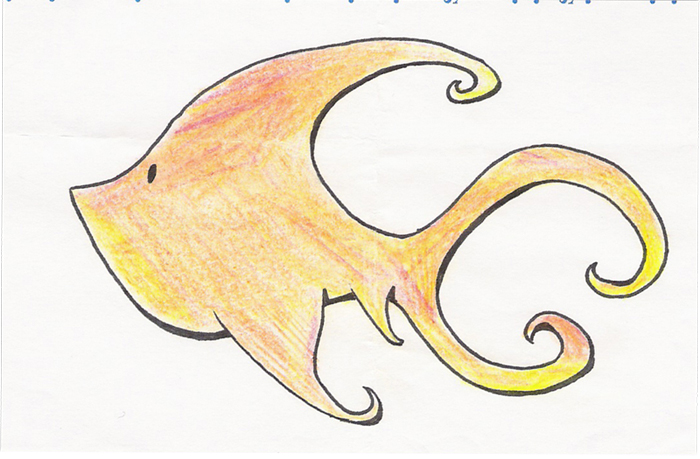 This is the first sketch ever done of the character that would end up being The Magical Booze Fish. I drew that while working at a now-defunct art supply store in a mall in Glen Burnie, Maryland way back in 1996. I had a lot of time on my hands at that store. Which is probably why they eventually went out of business. I'd "borrow" a few pencils, pens, and pieces of paper here and there and draw to pass the time. It was during these long lulls between customers that I came up with Gregor. And this fish. Gregor went into a mini-comic I posted on my dorm room door. But the fish… I wouldn't use him for anything until 12 years later.
He was originally drawn for a children's book a friend at the time was writing and had asked me to illustrate. He was to be floating in the air, tethered to an old man by a leash. I guess it was kind of like Delirium from Sandman and her fish, which makes sense given my goth-y friend. Except, instead of one of The Endless, we had an old man wearing a fez in charge of a wishing well. And his floating fish. But the friend disappeared, the book never happened, and the drawing went into a box.
Years later, I was working on this strip and halfway through I remembered the fish. He was perfect! Exactly what I needed to finish the comic. But… where was that old sketch? I dug through tons of old boxes (I was much more a pack rat then, I had boxes upon boxes labeled "pile" that just had piles of papers I couldn't throw away in them) until, eventually, I found it. The unnamed fish was reborn as The Magical Booze Fish, one of the characters that really surprised me by how much people liked him and wanted to see more of him. But maybe that really shouldn't have surprised me given that over a decade after first drawing him, I still remembered him and wanted to see more of him, too.